Unrivaled Luxury, All-Inclusive Excellence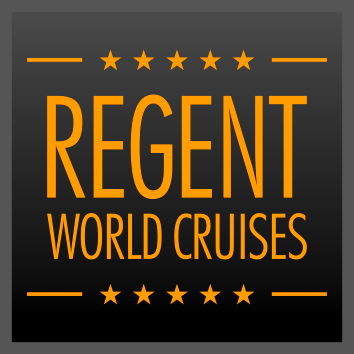 Regent World Cruises: Unrivaled Luxury, All-Inclusive Excellence
As a travel agent expert who has dedicated years to crafting extraordinary travel experiences, it is my privilege to introduce you to the world of Regent World Cruises. If you seek the epitome of opulence, personalized service, and all-inclusive luxury, then look no further than our remarkable collection of cruises. With an unwavering commitment to offering the best deals and unparalleled service in all currencies, Regent World Cruises guarantees a voyage that will redefine your perception of travel and create cherished memories that last a lifetime.
Regent Seven Seas Cruises: A Symphony of Perfection
Prepare to be enchanted as you step aboard Regent's fleet of elegant ships, each designed to embody the pinnacle of luxury and sophistication. Regent Seven Seas Cruises is renowned for its all-suite accommodations, where every guest enjoys a lavish private space to relax and unwind. Your suite will be an oasis of comfort and elegance, complete with a private balcony to take in the breathtaking views as you sail to some of the world's most captivating destinations.
The Best Deal, No Matter Where You Are
At Regent World Cruises, we believe that every client deserves to experience the best value, regardless of their location. Our commitment to providing the best deals in all currencies ensures that you will enjoy unparalleled savings, regardless of your country of residence.
As a global cruise booking platform, our team of experts works tirelessly to secure exclusive promotions and discounts that are passed directly to you. Our goal is to make your dream cruise a reality, and we take great pride in offering you the best deal for your chosen itinerary, ensuring that your voyage is not only unforgettable but also incredibly rewarding.
All-Inclusive Excellence: A Journey Like No Other
When you choose Regent World Cruises, you are not just selecting a vacation; you are embarking on a journey of all-inclusive excellence. Regent Seven Seas Cruises takes luxury to new heights by providing an all-inclusive experience that leaves no detail unattended.
Imagine indulging in gourmet cuisine prepared by world-class chefs, where every meal is a delightful culinary adventure. Savor complimentary fine wines and premium spirits, and enjoy a selection of excursions that immerse you in the culture and history of each destination. With all-inclusive amenities such as gratuities, shore excursions, and Wi-Fi, you can be assured of a seamless and worry-free cruise experience.
Unparalleled Service: Your Every Wish is Our Command
At Regent World Cruises, our commitment to service excellence is unwavering. From the moment you embark on your journey, you will be embraced by a team of dedicated professionals who are passionate about creating unforgettable memories for you.
Our crew members are renowned for their warmth, attentiveness, and professionalism. They are committed to anticipating your every need, ensuring that you feel pampered and cared for throughout your voyage. Whether it's customizing a shore excursion to suit your interests, arranging a special celebration, or attending to any special requests, our team is dedicated to making your cruise experience exceptional in every way.
Captivating Destinations, Extraordinary Experiences
Regent World Cruises takes you on a remarkable journey to some of the world's most captivating destinations. From the pristine shores of Alaska to the exotic wonders of Asia and the cultural treasures of Europe, each itinerary is thoughtfully curated to offer you a wealth of unforgettable experiences.
During your voyage, you will have the opportunity to participate in exclusive Regent Choice Shore Excursions, where expert guides and immersive activities provide a deeper understanding of the regions you visit. Whether you seek adventure, relaxation, or cultural exploration, Regent World Cruises offers an array of enriching experiences that cater to your interests.
Booking Your Dream Cruise
Booking your dream cruise with Regent World Cruises is an effortless and delightful experience. Our website, www.regent-world-cruises.com, provides an easy-to-navigate platform where you can explore a wide range of itineraries and discover the extraordinary experiences that await you.
Our team of travel advisors is well-versed in Regent Seven Seas Cruises and is always available to provide personalized assistance. Whether you have inquiries about suite options, dining preferences, or special celebrations, our experts are here to ensure that your cruise journey is tailored to perfection.
Embark on a Journey of Unrivaled Luxury
In conclusion, Regent World Cruises stands as a beacon of luxury and excellence, offering an all-inclusive experience that sets the bar for cruising. With the best deals in all currencies and unmatched service, every aspect of our cruises is designed to exceed your expectations.
Visit www.regent-world-cruises.com today and immerse yourself in the world of Regent Seven Seas Cruises. Discover the allure of all-inclusive luxury, captivating destinations, and cherished memories that will linger in your heart forever. Embrace the extraordinary with Regent World Cruises, and let us be your trusted partner on a voyage of a lifetime.